Volume 2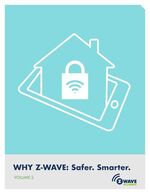 Z-Wave is the only smart home ecosystem with thousands of products from hundreds of brands that are easy to set up and include best-in-class security and encryption.
In an increasingly connected world, Z-Wave technology continues to advance as an open standard for developers, manufacturers, and silicon providers for a safer, smarter home.
Complete the form below to access this free eBook.
WHY Z-WAVE: Safer. Smarter.
Download the WHY Z-WAVE: Safer. Smarter. eBook.
Want to learn more? Download Volume 1 of our eBook series, WHY Z-WAVE: 10 REASONS.